Power and Passion Archives
---
Kazakova and Dmitriev's fan club has been publishing a bimonthly newsletter, Power and Passion since August 1995. Most back issues are sold out. For the first time, highlights of these back issues are now available here. These articles are only a sampling of the contents of each issue.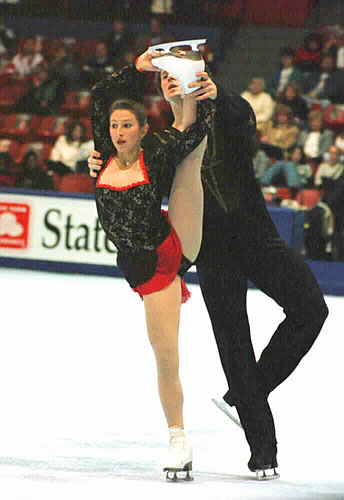 Copyright Photo by J. Barry Mittan . Photo # 9617720
---
Issue #7, August 1996
---
My Dinner with Tamara
On May 23, 1996 Tamara Moskvina met with two members of the fan club. She was in Chicago presenting at the PSA 1996 World Conference and she took the time to meet with us. We had dinner together and I was able to interview her over the course of the evening.
The PSA invited several esteemed members of the skating world to give presentations. In addition to Tamara, Scott Hamilton, Richard Callahan, and ISU President Ottavio Cinquanta spoke at the conference. It was the first ever World Skating Industry Conference.
We waited in the lobby for Tamara and she recognized us right away. (We had been in the group that met with her and Oksana and Artur at Skate America the previous October.) Although Tamara has always been friendly and down to earth, I was nervous as I kept reminding myself that I was about to meet with the greatest pairs coach in history, and a fascinating woman. Several times during dinner, I wanted to pinch myself as I was having trouble believing I had the honor of spending time with someone I admire so greatly.
We presented Tamara with various questions that fan club members have submitted over the months.
Marianne: How is Artur's back?
Tamara: Sometimes it's OK, sometimes it's worse. I think his back has pain when he's nervous. It seems to me it's nerves; not real pain. As a remedy, he needs to do lifts more regularly.
M: Are Oksana and Artur friends with Shishkova and Naumov and Eltsova and Bushkov?
T: Yes, good friends.
M: When they stay at hotels, who do they room with?
T: Artur shares with Ilya Kulik and Oksana with Maria Butyrskaya or Angelika Krylova.
M: What other skaters are they friends with?
T: Artur is friendly with everyone. His closest friend is Viacheslav Zagorodniak. Oksana is newcomer on the team.
M: Do they accept her?
T: Yes.
M: When Oksana and Artur talk to you, do they use formal or informal language?*
T: Formal. They call me Tamara Nicolaevna.
M: What about when they talk to each other?
T: Of course they use informal. He calls her the nickname Ksusha. She calls him Artur because there is no other nickname.
M: Can you describe what you thought of Oksana the first time you saw her?
T: I saw her for many years because she skated in our group. I didn't pay attention to her as potential partner for Artur. But when he tried with her, I watched them and he told me, "I want to skate with her." I agreed.
M:Do you remember the first time you saw Artur and what you thought of him?
T: No, I don't remember. His parents brought him to the rink. They were looking for my husband and asked where to find him. He was on holiday. So they started to talk to me. So Artur told that if Igor Moskvin is not here, I'll take from you.
M: Can you tell us about the theme or story of their new long program?
T: Right now, we didn't invent the story yet. Maybe it will unfold or just be inspiration. The music is Handel's "Passaqualia". Usually I first make the story and then do the program, but now I think we will not. The short program will be to "La Cucaracha."
(We react with surprise and ask that they not wear costumes similar to those of Grishuk and Platov, who skated a Latin theme last season.)
T: No, no, no. Those are awful costumes. We want them to experiment. This will be good for Oksana's style.
M: How is Elena Bereznaya's health?
T: She still has speech problems. She speaks Russian with a foreign accent. Her balance is not perfect, but she's OK. She jumps and does elements. I already made exhibition program for them on "Elegy" by Rachmaninoff. Then I did short program for them on Strauss' waltz.
M: Does Anton treat her nicely? Many of us in the fan club were very concerned, as we had reports that Elena's ex-partner Oleg did not treat her well.
T: Anton is very nice boy. He treats her with respect. He's Georgian and in Georgia they treat ladies properly. It's nice working with them. I did lovely program and music. And we invented some new moves.
M: Do they show skating on TV in Russia? Do any famous skaters do the commentary?
T: Yes, they show, but not much. Oleg Vassilev did commentary temporarily, but he was the only one.
M: Who else did Artur try out with when he was first looking for a new partner?
T: Malninina of Kazhakstan. Eltsova. One girl in Moscow; I don't remember the name. We thought of Surya Bonaly or Kristi Yamaguchi.
M: Seriously?
T: Yes, but we decided not to even suggest.
M: A lot of us wonder why Oksana and Artur have trouble with the split triple twist.
T: It's because her technique with her former partner was completely different. It's a conflict of techniques.
M: Which Grand Prix events will they be in?
T: Skate America, then France, then St. Petersburg. But I asked that Skate America not to be qualifying for the final; not to count for points.
M: Can you say exactly when you knew Oksana and Artur won at Europeans?
T: I have forgotten this already. I'm already in the new season.
M: I have something from several years ago; I hope you can remember this. Back in 1989, Natalia and Artur won the bronze at Europeans, but didn't go to Worlds that year. Why not?
T: I think that year there was something ... an agreement that some pair wouldn't go to Europeans so they send them, and the other pair went to Worlds.
M: What kind of activities do you have them do on the day of competition
T: We don't do much, skate sections of the program maybe once or twice.
M: How much English does Oksana speak?
T: If you will speak slowly, she'll understand. She can speak a little.
M: Is there any information on when your book will be published in English?
T: There is a lady interested in publishing it. First she'll have to get the rights from Platoro Press. Right now, I don't know more.
Before we were served our main courses, a waiter brought fried potato skins. Tamara joked that she will return to Russia and tell people that Americans have nothing to eat except the skins of potatoes.
At the dinner, Tamara was asked several questions for her biography which we will continue to run in installments in the newsletter.
I have been learning Russian for several months and used some of it on Tamara. Although my pronunciation and grammar were less than perfect (to say the least), Tamara told me I spoke it well. I glowed for weeks afterwards.
It was a wonderful meeting and many times Tamara told us how proud and happy she was that her skaters have a fan club. Of course we would continue the club even if they didn't know we existed. But the fact that Tamara, Oksana, and Artur appreciate that we're here