Kazakova and Dmitriev
---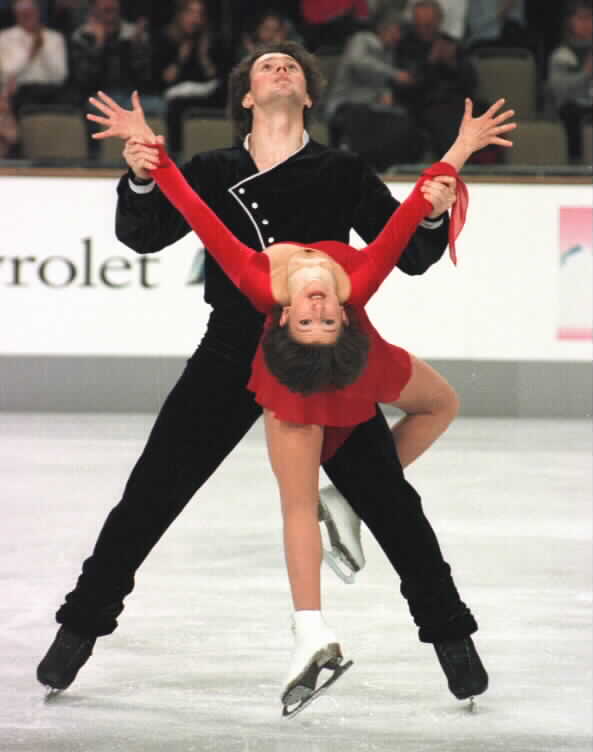 Copyright photo by J. Barry Mittan. Photo #9743314.
---
Personal Data:
Oksana Kazakova
Date of birth: April 8, 1975
Height: 5' 2"
Weight: 95 lbs
Home: St. Petersburg, Russia
Coach: Tamara Moskvina
Choreographers: Alexander Matveev, David Avdish, and Tamara Moskvina
Training Site: Yubileny Palace of Sport
Marital Status: Married since 1996
"She has such exquisite radiance during the performance...Her spirals are very quick, very easy into position; she does all kinds of different positions---very original and very innovative."---Debbi Wilkes
---
Artur Dmitriev
Date of Birth: January 21, 1968
Height: 6' 0"
Weight: 195 lbs
Home: St. Petersburg, Russia
Coach: Tamara Moskvina
Choreographer: Alexander Matveev, David Avdish, and Tamara Moskvina
Training Site: Yubileny Palace of Sport
Marital Status: Married since 1992
"It's great to have someone like him here (at Worlds) because everyone can learn just by watching him."---Toller Cranston
---
Return to the Kazakova & Dmitriev Home Page
---