Power and Passion Archives
---
Kazakova and Dmitriev's fan club has been publishing a bimonthly newsletter, Power and Passion since August 1995. Most back issues are sold out. For the first time, highlights of these back issues are now available here. These articles are only a sampling of the contents of each issue.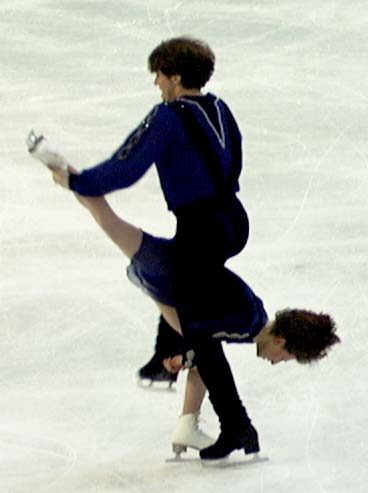 ---
Issue #10, February 1997
---
Trophy Lalique: Another Victory for Oksana and Artur
Oksana and Artur experienced the third victory of their career together when they won the Trophy Lalique competition in France on November 16. Their free skate was a smashing success and reason for fans to rejoice. Their coach Tamara had two reasons to celebrate because her new pair of Elena Bereznaya and Anton Sikharulidze marked their debut with a bronze medal.
The short programs were skated November 15 and Oksana and Artur had some difficulty. She fell on the triple toe loop and he doubled his. They wore different costumes than they had at Skate America; Artur's was a simple dark pants/dark shirt combination with a pattern on the top. Oksana also had a different dress than the one she had worn at Skate America; this one with a blue flower print. She topped off the look with an orange scrunchie on her hair and a green and yellow colored bracelet. Despite the problems with the triple toe loops, the rest of the program was clean and Tamara was satisfied with it. The audience responded well to it, and Tamara thought the marks, which slotted Oksana and Artur third, were fair. Americans Meno and Sand skated a clean short with triple toe loops and were placed first.
Oksana and Artur had to skate their long program early. The French pair withdrew shortly after having begun their free, and Oksana and Artur were called to the ice several minutes early. This can be a major disruption to most skaters, but our pair was brilliant in the long program, nailing all of their elements. The improvement they made in the brief period of time since Skate America is remarkable. Both throws were clean, the triple twist was performed (slightly underrotated), and the side-by-side jumps landed well. Even more heartening was the reaction of the public who greatly enjoyed the program. The strongest factor was the choreography. Although they are still using some M&D moves, their choreography contains some brilliant new ones. In one move, Oksana shows amazing balance and strength as she has one skate on the ice, and holds the other straight up. Emotion and creativity mark the pair's masterpiece of a program.
Artistic marks went as high as the 5.8-5.9 range--this title was well deserved. Oksana and Artur received six first place ordinals and one third. The only complaints heard were that they skated somewhat slow. Speed and stamina are areas they will need to work on this season.
Oksana remarked that last season, she knew that she could perform the elements, but this is the first season that she feels that she can do it and feels that they are a team.
Meno and Sand were still suffering wrist injuries and slipped to second place.
Elena Bereznaya made a stunning comeback by taking third place with Anton here. Although they moved down from second to third after the free skate, any kind of medal at only their first competition together is a major breakthrough. They did skate their programs somewhat cautiously, which is to be expected, but they also impressed the audience with their speed, line, and purity of technique. It really is amazing when one considers how far both of Tamara's pairs have come in very short periods of time.
Unfortunately, Elena injured her leg after the free skate and had to skip the exhibition. The good news is that she recovered relatively quickly.
American skating fans saw TV coverage from the Fox network. Fox has usually given pairs the brush-off, but surprised us all by airing complete free skates from the top four pairs and by doing a profile on Elena and Anton. Elena and Anton are "an item" and her remarkable recovery from her serious head wound in January, 1996 should be the talk of the skating world for years to come. Tamara is thought of as a miracle worker for putting together these two amazing pairs so quickly.
Tamara and her teams celebrated with a traditional glass of champagne together. (This is a ritual that has been going on for years; after her two pairs at Albertville won gold and silver they all celebrated with champagne.) this was definately Oksana and Artur's best competition since 1996 Europeans. "We have a saying in Russia," Tamara remarked, " 'Chickens are counted in autumn'. For skaters, autumn is Worlds and Olympics."
---
Russia Cup
Bailey's Russia Cup was held December 12-14 in St. Petersburg, Russia. It provided Oksana and Artur with their first competition against Woetzl and Steuer and Eltsova and Bushkov this season. Elena Bereznaya and Anton Sikharulidze also competed here as their second competition together.
The reaction to Oksana and Artur's "Cucaracha" was again a bit mixed. The audience seemed to enjoy it, clapping along with the music, but the presentation marks given by the judges were low. That may be partially due to the technical problems they had as Artur doubled the triple toe as he had at Lalique. Oksana completed hers but touched her hand to the ice. The long program also had a few technical mistakes, with Oksana falling on a throw and Artur again doubling his toe loop. But the rest of the program was solid and strong. Many skating fans received this new program well, noting the captivating choreography and its graceful connection with the music.
Woetzl and Steuer had a strong free skate to win the title, and Eltsova and Bushkov finished second. Elena and Anton struggled, falling on a lift. Fortunately Elena is not seriously injured. (This is getting to be a refrain, with Elena suffering so many injuries!) They finished fifth which might have been a little disappointing, but they are a very new team and this was only their second competition together.
Oksana and Artur have concentrated on preparing their two competitive programs, so their new exhibition to "Fly Me to the Moon" was not yet ready at this competition. Their third place finish was strong enough to enable them to progress to the Championship Series Final.
---
Biography of Tamara Moskvina
Part IV: Grenoble
Our last newsletter left off with Tamara's biography after she ahd her pairs partner, Aleksei Mishin, found out that they had qualified for the 1968 Olympics in Grenoble.
Tamara has several memories from Grenoble. The famous actress Audrey Hepburn was a big fan of the defending Olympic Champions Ludmilla and Oleg Protopopov, and she showed up for many of their practice sessions. Tamara's husband and coach, Igor Moskvin, also coached the Protopopovs during this Olympics.
Men and women were housed in different dorms at Grenoble, and Tamara says that the only male allowed to enter the women's house was the doctor.
Tamara found the competition itself difficult. "I was in the fog, " she said referring to the anxiety and fear that sometimes crept in when she competed. During the short program she had trouble with the side-by-side flying camel spin. "I made too high jump without rotational speed and stopped after 2-4 rotations...I understood at once that my dreams and plans to be among the prize winners did not come true. I do not remember our placement after the short." She and Aleksei finished overall in 5th place. The title went to the Protopopovs.
In retrospect, Tamara thinks her troubles at this competition were due to a lack of confidence. After the Olympics, she worked on developing a method to deal with nerves.
Tamara and Aleksei made the decision to stay in the amateur ranks for one more season and competed at the 1969 World Championships. Irina Rodnina and Aleksei Ulanov began their domination of pairs skating with that competition and took the title. Moskvina and Mishin won the silver, and the Protopopovs were third. Contemporary skating fans can only dream about this period of time when the ice was graced by these skating legends. And it is interesting to note that now, pairs coached by Rodnina -- such as Kovarikova/Novotny and Meno/Sand -- have been competing against pairs coached by Moskvina. The rivalry continues as coaches.
After that competition, Tamara and Aleksei decided to retire. "I was 28 and had to either defend my thesis and get the PhD or forget about it," Tamara says. "And then Igor and I wanted to have a family." She knew that, "One more medal won't give more satisfaction." Aleksei agreed and skated in singles for a while. He later got his PhD and married. Tamara achieved her PhD in 1970 from the Academy of Physical Education and Sport. A variety of subjects in addition to sports was taught there.
---
Return to the
Kazakova & Dmitriev Home Page