Power and Passion Archives
---
Kazakova and Dmitriev's fan club has been publishing a bimonthly newsletter, Power and Passion since August 1995. Most back issues are sold out. For the first time, highlights of these back issues are now available here. These articles are only a sampling of the contents of each issue.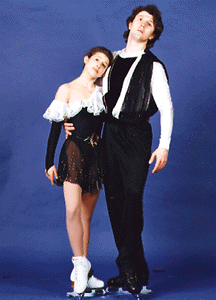 This photo graced the cover of our second issue.
Issue #2, October 1995
---
Oksana's Biography
When we first started the fan club, Oksana Kazakova didn't have the name recognition among skating fans that she has today. She was kind enough to write about her background for her fan club members to read.
"I was born on April 8, 1975 in Leningrad. My mother was a teacher in kindergarden and my father was a military man. They put me into a kindergarden when I was 3 years old. I was not very healthy, so my parents put me to go into figure skating. Three days a week I visited the ice rink and liked it very much. After a while I was invited to enter the sport club 'Trud.'
In 1982 I went to school and at the same time I was admitted into the well known figure skating school, the Yublieny Palace of Sport where all the Russian pairs champions trained: Belousova-Protopopov, Moskvina-Mishin, Smirnova-Suraikin, Vorobieva-Lisovsky, Valova-Vassiliev, Mishkutenok-Dmitriev., Shishkova-Naumov. I did not do well at school and in skating. I did not like singles skating as I did not like school figures. I liked to improvise on ice, to dance. When I was 10, the well known Russian film producer, Mr. Sokurov came to the ice rink and saw me skating. He then put me with my dance "Circus" in his movie about young figure skaters.
When I was 13, I was offered to do pairs. I had to learn new pair elements and study at school, where I had good marks.
My first partner was A. Mokhov. We skated for 4 years and took part in the Junior World Championship in Budapest. Then my coaches, Natalia Pavlova and V. Teslia decided to put me together with Dmitry Sukhanov, who was already Junior World Champion. We skated together with Dmitry for 4 years. Those two coaches and my choreographer S. Korol taught me to work creatively. I am very grateful to them. Since February 1995, I've been working under Tamara Moskvina with Artur Dmitriev.
In summer on holidays I liked to go to summer skating school and also stay with my parents in the Baltic Republics and in the Crimea. Very seldomly, I visited our summer cottage, which is 80 km from St. Petersburg. I like our summer cottage, garden, Russian sauna, and very nice neighbours. Sometimes we go to the forest and pick mushrooms. We have a little garden with berries and vegetables. Unfortunately, I visit it seldom as I practice a lot.
In my spare time, I like to be with my friends, listen to music, read books, and play volleyball and tennis. I live together with my mother and stepfather. I have no sisters or brothers. I study at the College of Physical Culture to become a coach."
Note: Since Oksana wrote this, she has been married (in the summer of 1996) and now lives with her husband in St. Petersburg.
---
Preview of the New Team of Kazakova and Dmitriev
Colorado Springs World Arena, July 20 and 25, 1995
by Kathy Goedeken
Natalia Mishkutenok and Artur Dmitriev achieved the highest honors in pairs figure skating by winning gold medals in the 1991 and 1992 World Championships and a gold medal at the 1992 Winter Olympics. After the 1994 Olympics, the team skated across America in the Tour of World Figure Skating Champions, competed in and won the Goodwill Games at home in St. Petersburg and performed in Skates of Gold II.
Mishkutenok and Dmitriev were planning to remain eligible and compete again at the World Championships in 1995 until their thoughts shifted during a rest in Novemeber due to an injury to Dmitriev's back. During her vacation, Mishkutenok became engaged and her focus turned from skating to getting married. The duo perceived different views of their future and decided to part ways.
Their legendary coach, Tamara Moskvina explains the breakup of their partnership, "He (Dmitriev) found more interest in skating competitions...because in professional, there is also competition but there are no strong rules so people who skate in professional competitions are not obliged to do all the difficult things--to every year change the program. His spirit is more competitive so he decided he wanted to stay in the sport longer. There is more interest from the public to the competitors because you see the real spirit of sport during the competition, so he likes it better. Natalia didn't feel this and she was really tired of focussing on the jumps and the difficult elements that she needed to do. It was difficult for her always to concentrate on the demands of the sport...That is why they decided first to have a rest in November after Artur had some injury. They decided to rest for a little bit and then decide whether to continue or not. Then Natasha told, `I would like to stay, but only in professional.' And Artur told, `I would like to stay but only in amateur.' and then she start this new life and its new challenges."
Dmitriev was in need of a new partner and Coach Moskvina selected twenty year old Oksana Kazakova to train with her star pupil. Kazakova finished 4th in the 1995 Russian Championships with her partner Dmitry Sukhanov and had trained in the same rink with Mishkutenok and Dmitriev. The new pair began skating together in the spring of 1995 and were invited to skate at the new Colorado Springs World Arena for two months this summer. At the Arena, they trained three hours on ice, six days a week. I was fortunate to watch Oksana and Artur in practice during their stay in Colorado Springs and get a preview of possibly the next team to continue Russian pairs dominance.
As I was walking up to the Colorado Springs World Arena, I was afraid that I was late to the first pairs session, until I glanced behind me and noticed the tall, luminous figure of Artur Dmitriev. Then I knew that I was on time. I had been told by Coach Moskvina that the pairs would do choreography in the gym at 8:30 am, but I soon found that they were practicing lifts and twists outside at 9:00, because the ceiling was not high enough in the inside ballet room.
After a quick greeting from Tamara Moskvina and her husband Igor Moskvin, I sat down on a bench outside in front of the faculty to watch the pairs warm up on the concrete. Along with Kazakova and Dmitriev there were Latvians Elena Bereznaya and Oleg Shliakhov who are also training with Moskvina, French Sarah Abitbol and Stephan Bernadis, Americans Shelby Lyons and Brian Wells, and an American Junior team who were all training with Igor Moskvin. The pairs first stretched out, sometimes using the benches, buildings, and each other. Then they worked on their lifts and throw twists, and were aided by comments and demonstrations from their coaches and other skaters. It was breathtaking to watch the pairs execute their moves in the bright sunlight with the Colorado Springs foothills as their backdrops. I was equally impressed with the height of Kazakova and Dmitriev's split double twist.
At the end of the practice session, Tamara Moskvina warmly came over to me and said, "I want to share with you my great joy--today I am a grandmother!" She went on with enthusiasm to tell me that her daughter Olga had given birth to a baby girl the night before, and both mother and daughter were doing well at a St. Petersburg hospital. Moskvina was looking forward to seeing her new granddaughter when they returned to Russia on August 1st.
After a half hour of off-ice practice, the skaters went inside to change clothes and begin the 45 minute on-ice practice session in the Olympic rink. Kazakova and Dmitriev entered the rink, skated over, and bowed to their coach.
Everyone worked hard but seemed to be in a festive mood, perhaps because of the warm summer sun outside and the aura of the new grandparents. The president of the Latvian figure skating federation, Brigita Pecsukevieva stopped by the rink to watch Bereznaya and Shliakov and to present Tamara Moskvina with a pink rose in celebration of the new grandchild.
Kazakova and Dmitriev worked hard on the pairs elements and did partial run throughs of their new long program, "La Traviata." I was very impressed with this soft and beautiful number.
Their choreographer, Alexander Matveev also made the trip from St. Petersburg and was working with the pairs during the day. Matveev and Moskvina collaborate to design the skating programs. Among their creations are the well-known "Dreams of Love" and "Symphony of Emotions" long programs of Mishkutenok and Dmitriev in the 1992 and 1994 Olympics. Matveev used his whole body to explain skating moves to the pairs. I caught a glimpse of his childlike side off of the ice when we were waiting for the afternoon pairs session to begin. Several times he threw ice shavings at a group of pairs skaters including Bereznaya and Shliakhkov, and then he would turn around as if he hadn't. The skaters quickly caught on to the mischief and jokingly yelled at him.
Some words to describe Kazakova and Dmitriev's skating are inventive, emotional, powerful, and gymnastic. Their coach describes their developing style as "more artistic with a lot of artistry, with a lot of inventive moves, and also with all the demands for a strong, strong program."
Despite their seven year age difference (Artur is 27 and Oksana 20), they skate with a man and woman relationship. Artur is the emotional tour de force, but I was also drawn to Oksana with her charm and playfulness. She has an embullient nature and concluded the practice session by curtseying in an over dramatic way to their coach and choreographer.
When the practice concluded, Artur and Oksana brought over a camcorder with a recording of their recent exhibition for Moskvina to view. Moskvina watched the tape and spoke with the team. Afterwards I asked her how it looked. She replied, "Good, but I am the coach and I have to be critical and tell them how to do things better."
I returned to the Colorado Springs World Ice Arena the following week to watch the pairs morning practice session before my flight home. When practicing lifts and twists outside, Kazakova and Dmitriev were called by Igor Moskvin to demonstrate the double twist to his Junior level pair, Ilana Goldfolgel and Brian Schwartz. Artur and Oksana did the double twist several times, then Artur twisted Ilana, and then Brian and Ilana finally tried it together. This young US pair had a rare and wonderful opportunity to learn from the best in the world.
The Russians returned to St. Petersburg on August 1st. Artur and his wife Tatiana were reunited with their three year old son, Artur Jr. who had been cared for by Tatiana's mother in St. Petersburg during their stay in American while Artur trained and Tatiana studied English.
The artistic, creative culture of St. Petersburg along with their family ties bring Oksana and Artur home to live and train despite the hardships of living in the city. This season, they plan to compete at Skate America and Lalique along with Nationals, Europeans, and Worlds. They will also be performing in an international competition to celebrate the 100th anniversary of figure skating in St. Petersburg. I wish them the best of luck this season and look forward to watching them develop as a pair in their skating careers.
---
Return to the
Kazakova & Dmitriev Home Page
---