Power and Passion Archives
---
Kazakova and Dmitriev's fan club has been publishing a bimonthly newsletter, Power and Passion since August 1995. Most back issues are sold out. For the first time, highlights of these back issues are now available here. These articles are only a sampling of the contents of each issue.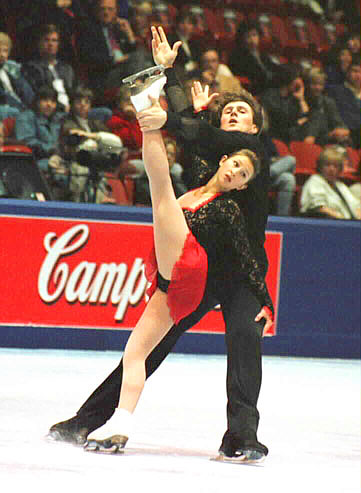 Copyright Photo by J. Barry Mittan . Photo # 9617717
---
Issue #8, October 1996
A Letter from Oksana
(Oksana wrote to us to describe her experience as a first-timer on the Tom Collins' Tour of Champions.)
I am greatly impressed by the level of organization of the tour, starting from the book of itinerary and finishing with the equipment for muscular development, games that the skaters could enjoy during the show when they do not skate.
The level of skaters: the best in the world. All skaters try to practice inspite of difficult schedule of travel. During the show you not only watch them skate, but also learn how to perform, present yourself, be successful with the public.
The staff on the tour including Tom Collins, is very friendly, supportive and try to do everything possible to help skaters skate well. You are not afraid of the tour managers.
As a newcomer, I was taken care of from the very beginning of the show. Elaine de Moore, David Sultan were very supportive. Everybody tried to speak English slowly and tried to instruct me kindly.
I was happy to be part of great international show. I realize what Tamara told me: that I will learn each evening how to give enjoyment to 10-18 thousand people and try to win their applause. I never dramed before to become part of such a show.
---
SURVEY SAYS!
We surveyed fan club members for their views on Oksana and Artur's first season, and on our newsletter's first year, as well as some other general skating questions.
Question 1: How long have you been a skating fan?
The average came out to be 16 years.
2. Who are two of your favorite ice dancers?
Klimova and Ponomarenko won hands down. Usova and Zhulin came in second, and Torvill and Dean third. The other ice dancers who received more than one vote were Bourne and Kraatz and Grishuk and Platov.
3. Who are two of your favorite male singles skaters?
Alexei Urmanov wins by a comfortable margin. Viktor Petrenko came in second, and Brian Boitano tied with Ilya Kulik for third. Other men who received more than one vote were Todd Eldredge, Paul Wylie, Rudy Galindo, Kurt Browning, Scott Hamilton, and Phillippe Candeloro.
4. Who are two of your favorite female singles skaters?
First place was a three way tie among Oksana Baiul, Kristi Yamaguchi, and Chen Lu. Second place was also a tie, this time between Irina Slutskaya and Katarina Witt. Michelle Kwan was third. Maria Butyrskaya, Nicole Bobek, and Denise Bielmann were the other skaters who received more than one vote.
5. Who are two of your favorite pairs, besides Oksana and Artur?
Bechke and Petrov and Shishkova and Naumov tied for first. Mishkutenok and Dmitriev came in second and Gordeeva and Grinkov were third. Meno and Sand and Brassuer and Eisler were the other pairs who received more than one vote.
6. What is your favorite performance of Oksana and Artur's?
Some specified a particular performance; others gave the name of the program they liked best.
For those who mentioned a particular performance, there was no clear winner. Respondents were pretty evenly split between their exhibition given at the World Championships and their long program at Europeans. Their short program at Europeans also received some votes, and perhaps might have gotten more had it been aired in the US. Only those of us lucky enough to have access to Eurosport were able to see it. The exhibition at Europeans was the 4th most popular answer, and the long program at Trophee de France was 5th.
For those who answered with the name of a program rather than a specific performance, the winner was 2001. Nostalgia, the short program, placed second, and fans liked La Traviata, their long program, third best.
7. What do you like about Oksana and Artur?
Oksana:
*"Her flexibility, balletic style, and ebullience."
*"Her freshness, intensity and enthusiasm."
*"Grace and flexibility."
*"Her fresh look on the ice."
*"I like her playfulness. I love the move featured on the cover of the June P&P."
*"She looks cheerful and stylish. Really has a charming, endearing look on the ice."
Artur:
*"He is absolutely the best (and sexiest) male pairs skater the world has ever seen!"
*"His passion and exuberence while maintaining a very masculine image."
*"His strength and power."
*"His balletic strength."
*"Just as the name states, I like the power and passion of Artur. He has such a striking presence on the ice."
*"I like him because he is the greatest male skater ever!
Both:
*"The newsletter title says it all."
*"Flow, artistry, expression, emotional involvement with the music."
*"They have combined power, passion, and perfection."
*"They are fresh, they're exciting, and I feel they both have the ability and desire to be one of the best pairs teams in history."
*"There doesn't seem to be much fire among pairs these days---Oksana and Artur could bring some heat back to the sport."
*"They have power and passion."
*"Innovative and passionate."
*"Their passion."
*"Their presence on the ice is incredible. Their technical elements come out of artistic moves unlike anyone else."
*"I love the energy and creativity they have while maintaining their classic style. I also love their lifts."
*"Their choreography is still the best, even when they make technical mistakes."
8. If you could request that they change one thing about their skating, what would it be?
There was one overriding theme:
*"More new ideas, rather than so much similar to Mishkutenok and Dmitriev."
*"No more Natalia spins or moves!"
*"They have too many moves that remind me of M&D. I would like for them to find their own unique style, which I am sure they are going to do."
*"No reflections of Natalia, who can be equaled, but not duplicated."
*"No M&D moves."
*"That they find their identity and not copy M&D...I know Artur had to incorporate certain M&D elements into a K&D routine at the beginning, but at this point it should cease. For example, if they continue doing 'Natalia's spin', it will only serve to highlight that Oksana is not as flexible as Natalia."
*"They need better lifts, and should stop using old M&D lifts."
*"Skate more to Oksana's style and not try to imitate Mishkutenok and Dmitriev."
*"I just wish they wouldn't try to copy so many Natalia moves."
Other suggestions:
*"I think Oksana's light-hearted personality will require Artur to 'loosen up' a little. He needs to respond more to her playfulness."
*"Their costumes."
*"Get better lifts, please!"
*"They should play on Oksana's qualities like her playfulness and innocence."
9. What music would you like to see them skate to in the future?
Beethoven's Seventh Symphony, Braveheart soundtrack, Dr. Zhivago soundtrack, Mahler's Adagietto, Romeo and Juliette, Porgy and Bess, Snowstorm, Guys and Dolls, Samson and Delilah, The Planets, Napoleon and Josephine (from the TV miniseries), Mozart's Symphony #25, soundtrack of The Mission.
Many fans expressed a hope that they would use classical, upbeat, and/or romantic music.
10. Describe what kind of costumes you'd like to see them in:
Although many fans don't want them to do M&D moves, a lot of them seemed to want a return to M&D costumes:
*"I really like Artur in Hamlet shirts (like 'Dream of Love') and I think Oksana would have a longer line in opaque leggings like Natalia wore."
*"Tights." (requested by several respondents, although they are illegal in competition)
*"Ballet costumes."
*"I would like for him to recapture his 'old' look."
*"Artur's costumes need to be more ornate. A good example is the costume from the 1994 Olympics short program."
Many wrote to say they enjoyed simple, dark costumes on the couple. Some noted that Artur tends to look better in costumes that are all one piece, rather than trousers and shirt. Many also felt that Oksana would look good in "flowy" costumes.
11. What do you like about Power and Passion?
Predominent themes:
*"The focus on the skaters themselves; good info on Tamara and her contributions."
*"This is the one way I can find out what my favorite pair and coach are really like and what they're doing."
*"I like that Oksana and Artur and Tamara are involved in the club."
*"Interesting articles, concise and informative. Not a lot of gush about favorites."
*"The great color photos, the quality articles. It's easy to read and follow."
*"Good length, info up to date and interesting biographies."
*"I like the fact that it it's filled with info about the Russian skaters."
12. How can we improve Power and Passion?
Five people said that it's perfect as is.
Four requested more information on other students of Tamara.
Several requests for more contributions from readers.
Two requests for more info on the skaters' families.
Two requests for more articles from the Canadian judge in our post-Worlds issue.
(We'll do our best to keep updating you about Tamara's other students. Our Canadian judge has said she will write more for us this fall. Please note that readers' contributions are always welcome.)
---
SPOTLIGHT ON...
Oksana
She was married this summer! On July 19, she and 27 year old Aleksei Novitsky tied the knot in St. Petersburg. They were married in a Russian Orthodox Church, with 25 family members and friends in attendance. Aleksei is not a skater. He works in the tourism business and is a student in a trade college. They had their honeymoon in Turkey and now have their own apartment in St.Petersburg. Oksana and Aleksei had dated for about eight months before the ceremony. We send the newlyweds all our best.
Artur
He was able to spend some precious time with his wife, Tatiana, during the Tom Collins Tour in San Diego. After the Tour, the family vacationed in their summer cottage outside of St. Petersburg. Artur and Oksana began training on August 1, after their vacations. They performed in an exhibition in France on August 24, skating their new exhibition and the last segments of their new long program. They performed a successful throw triple toe in the exhibition, and Tamara was very satisfied with their performances there.
Tamara
She worked as a consultant with the ISU on the making of a videotape about deductions for pairs short programs. She met with them in Toronto, in early August.
Elena Bereznaya
Fan club members have been asking for the chance to get to know Elena a little better, so Tamara arranged for us to interview her.
Q: Elena, after suffering such a terrifying injury, where did you find the strength to continue?
A: I skate from five years old and I had no thoughts to stop skating or to think that I cannot skate anymore.
Q: What kind of goals do you have as a skater?
A: I think that every sportsman dreams of winning the highest reward in their life. The highest is the Olympic gold.
Q: Where and with whom do you live?
A: I live in St. Petersburg with Anton's parents. Soon I'll have my own apartment. My mother and brothers will visit me there in St. Petersburg. I do not know if they will move to St. Petersburg. If it happens, it will not be soon.
We also asked Tamara for her prognosis on the new pair of Bereznaya and Sikharulidze, and asked her to compare their partnership with Oksana and Artur in their first season. Tamara answered that there are too many factors to predict how Elena and Anton will fare: health, different techniques, different styles, different reactions. She added, "I do not want to compare Oksana and Artur to Elena and Anton. Oksana and Artur already is a pair, European Champions, fifth at Worlds. Elena and Anton were lower in their world rankings, they had not so much experience as Artur had. I can just tell where I see the strong points of Elena and Anton: bigger speed, flow of skating and lightness, nice balletic line and posture, very clean elements. The biggest and longest throws and light lifts...They have something smilar to Gordeeva and Grinkov."
---
Return to the
Kazakova & Dmitriev Home Page
---