Power and Passion Archives
---
Kazakova and Dmitriev's fan club has been publishing a bimonthly newsletter, Power and Passion since August 1995. Most back issues are sold out. For the first time, highlights of these back issues are now available here. These articles are only a sampling of the contents of each issue.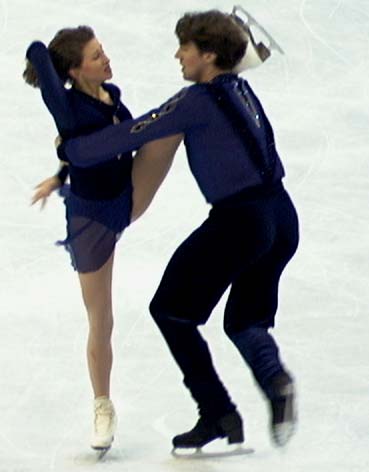 ---
Issue #9, December 1996
---
VICTORY AT SKATE AMERICA
As we noted last issue, Oksana and Artur's season had gotten off to a great start with the exciting exhibition they performed in France at the St. Gervais competition. Since viewing a tape of it, I saw that they looked strong and confident heading into their second season together. Skate America was their first competition.
This year's field was considerably watered down following the withdrawals of Meno and Sand and Shishkova and Naumov due to injuries. Overall Oksana and Artur had many technical errors at this competition, but they were still the class of the event, and deserved this, the second title of their career.
*The Short Program*
Oksana and Artur took the warm-up donned in costumes that were, to say the least, eye catching. She wore a neon bright blue dress with flowers going down one arm and different colored bows on her skates. He had on blue pants and a multi-colored striped shirt with black lacing down the front. They certainly stood out from the crowd. "Artur looks different," Tamara had emailed me weeks before. She was certainly making an understatement! The reaction to these costumes was unanimously negative.
Artur also looked fatigued duing the warm-up, possibly due to the enormous trek he and Oksana had to endure to get to Springfield, Massachusetts. The Russian Federation noticed that it would be cheaper to fly all of their skaters out of Moscow to the US. So the St. Petersburg skaters (Kazakova and Dmitriev, Alexei Urmanov , Alexei Yagudin) and their coaches were forced to take an eight hour train ride to Moscow. From there the Russian team flew to Washington DC, and then from there they traveled to Springfield. It was an exhausting trip and they did not arrive until Tuesday, October 29. The short programs were Thursday, October 31. It is not a surprise that Artur looked tired and may explain the lackluster performance.
The music of "LaCucaracha" began as Oksana and Artur performed moves that were intended to be humorous. Too many mistakes took the wind out of their sails and the comedy theme was not carried through the entire program. They both had trouble with the landings of their triple toes and nearly collided. Their spins were out of unison, which was shocking. It was a delight to see them debut a new lift. And, yes, they kept the "Natalia's spin"(unfortunately in some people's books). But the worst mistake happened when Artur tripped and fell. They lost precious seconds and were left with a big hole in the program. (They were the last of seven couples to compete and the ice looked very cut up.) I think that in order for this comedy routine to succeed, they must skate it with conviction--and at Skate America they looked uninspired.
While the program had serious errors, most of the other pairs also made their share of mistakes. Oksana and Artur were slotted second to Lyons and Wells.
*The Practice Session*
Oksana and Artur skated a practice session the next day and it helped ease some doubts about their readiness for this event. Artur looked more rested and Oksana especially looked strong and ready. They wore the same gorgeous costumes they would wear for the free skate. Oksana was exceptionally beautiful in a delicate black lace top that cascaded down to partially cover a red skirt. Artur had on a see-through black shirt with a gold design and black pants. Not only did they look good, but they skated well in this practice session, hitting many of their elements.
*The Long Program*
This will not rank as a great competition in the annals of pairs skating, as most of the pairs in the first group struggled. But Steigler and Zimmerman and Lyons and Wells showed enormous promise and ignited the American crowd. John Zimmerman reminds many of Artur--both throw themselves into their programs, both have uncommon grace and a masculine appeal. Several months ago one of our members met John and he confirmed that Artur is one of his skating idols.
During the warm-up, Oksana and Artur performed a great throw triple salchow right in front of a section many fan club members were in. We cheered enthusiastically.
They skated, again, last of all the contenders. I must admit that I have mixed feelings about this particular performance. On one hand, it was rife with errors: a double (instead of a triple) toe loop, a single (rather than a double) axel, a double twist lift (in lieu of a triple). One lift was completely omitted, and yet another was supposed to go to a one-handed release, but remained two-handed throughout. It goes without saying that such a performance is not going to get them close to the podium at any major event with a stronger field.
They did perform both difficult throws very well. And the positive aspects of this program (called "Passacaglia", by the way) more than made up for the errors, not just in my opinion, but also in the opinion of five of the judges. This is a breathtaking program choreographically--refined, elegant, and passionate! When they skate it with the difficult elements intact, they will be unbeatable. Although they kept some old moves, they added in some remarkable innovations including some new flexibility moves highlighting Oksana's agility. Their arm gestures and balletic choreography stood out, as did a magnificent footwork sequence which built in intensity along with the music. So much of what we love about Oksana and Artur is wrapped up in this masterpiece.
Oksana and Artur received five first place ordinals, two seconds, and two thirds to cap the title. "No one else was on a par with them," one spectator said. Artur has won Skate America twice before (1988 and 1989) with Natalia. It was an honor and a thrill to be there in person to see them stand atop the podium and I am certain that a clean program can bring them other gold medals in the future.
---
SEVENTH FLOOR SOIREE AT THE SHERATON
Oksana, Artur, and Tamara made the time again to meet with their fan club at Skate America. We met in the lobby of the Hotel Sheraton Springfield and proceded to assemble in our seventh floor room. At last year's Skate America, we held our gathering in a public area; this year's was a cozier atmosphere. Ten fan club members were able to make the trip this year.
Tamara began by asking everyone to introduce themselves, and then letting us know how much it means to them to have a fan club. "Unfortunately we don't get enough opportunity to let you know," she said. She went on to say they enjoy reading our newsletter and appreciate having fans who support them. "We read it and recognize people enjoy our skating," she commented. They especially liked reading the survey results in our last issue and said that although they cannot please everyone, they do consider all suggestions.
"I have one question, if possible," Artur said. "We skate yesterday, short program, not good. But anyway, we have new costumes. What is your opinion?" He added that they can easily change the costumes.
Fan club members had mixed opinions about "LaCucaracha", but there was a consensus on the costumes--they should be changed. Most felt they were too distracting and did not relate to the music. Some also objected to the theme of the program, prefering a classical style. Others felt that Oksana and Artur must expand their repertoire if they are to succede as professionals, and exploring a humorous program may be one way to do that. Whatever the case, this will take some getting used to as we have never seen Oksana do a comedic program, and Artur has not skated one since his and Natalia's 1990 free program. Artur said that they skated this program in Finland a few weeks before Skate America without the difficult elements, and the audience liked the program. It remains to be seen how Americans will accept this new style.
Oksana was shy as she was last year, and spoke mostly in Russian (with Tamara translating), but did tell us in English that she learned a bit more of the language while on the TOC. She said she enjoyed the tour. Her husband Aleksei has been helping Tamara with various things, but he was not able to tour with Oksana last summer. She hopes he will be able to accompany her next year on the TOC. Artur said that his wife Tatiana spent 15 days on the tour with him. Their son is now four years old and in preschool. Artur Jr. has not begun skating yet, but Artur Sr. plans to take him for skating lessons next year.
Pairs skating has become increasingly focussed on the jumps. Artur said, "I think the way to win is combination (of jumps and artistry.) For sure. In pairs you cannot win just by technical. In singles it's possible, but in pairs I don't think so. But you also need the elements." He says his back is ok now, but added that he has a younger friend who developed such serious back problems that he was forced to stop skating.
The skating season has become very long, with skaters touring all summer and then scrambling to prepare for competitions. We asked them what they thought of that. "Are you tired of competition?" Tamara asked fan club members. "No!" we all replied. "Then we are not tired to compete," she said. She added that it is a strain preparing complete programs so quickly.
We took some group photographs and thanked Oksana, Artur, and Tamara for making the time to meet with their fans.
---
A MAN'S POINT OF VIEW by Jim Hunt
Skate America: Some Observations
This was to be my first live skating competition. It certainly proved to be full of long-lasting memories. I'd entered into this with much anticipation. Having carted my daughters to twirling competitions in the past, I found this experience equally addictive and fascinating.
Thinking back to our arrival in Springfield, I'm convinced that Norman Rockwell must have designed New England. The scenery and architcture certainly did not disappoint me. I was especially impressed by the park in front of the Springfield arena.
Before we arrived at the arena, we'd stopped by the Sheraton to make contact with our fellow members of the Kazakova-Dmitriev fan club. This club is ably led by Marianne. We'd only had contact with her by phone or mail, and were anxious to meet her. What a powerhouse she is and what a busy young lady she is. Arriving at the hotel, we were immediately overwhelmed by running into Oksana and Tamara. They were gracious from the ouset. Tamara is such a pro at handling her stars and the public. Diminutive as she is, you can sense the total devotion and strength she has.
The practice sessions started, and my attention shifted to the coaches and their wards. Some coaches frowned, scowled, or cajoled. Others, like Kathy Casey, beamed and radiated their infectious smiles. Others had to display only the smallest facial expression or hand movement to signal their approval or disapproval. The coaches were indeed the conductors orchestrating the symphony. I am in awe of both performers and coaches who must endure the penetrating stare of the public. A fishbowl experience is the closest analogy I can make. How tiresome this must be; but how oblivious they become. This is indeed the highest form of discipline. We were able to observe Frank Caroll and Michelle Kwan--what a rapport those two have.
The audiences, both practice and competition, were varied. One could observe the "veterans." They were the ones without the stiff necks from celebrity watching. From the urbane and sophisticated to my fellow small town comrades, I saw a cross section of that unique cadre of figure skaing fans.
Marianne had been in touch with Tamara and was able to arrange a fan club meeting with Oksana and Artur. It was an intimate and informative session. We'd already seen the short program and their costumes.Sincerely they asked our opinions on costuming and other matters. I felt Artur was not comfortable with the costuming. We were charmed by his comment, "We can change them." Enough said. I simply felt that this was not K&D, but if they wished to try something new, who was I to criticize? Honestly, I am a die-hard classicist. I like it in all aspects of figure skating. Maybe I'm a dinosaur, but an honest dinosaur. I'm mainly concerned that in Russia's scramble to retain its position on the world scene, some of the essence of Russia may disapppear. What a tragedy this would be for world culture. During our introductions, I made a small gesture. I'd bought Oksana, Artur, and Tamara some pens. Symbolic pens. They were gold--for gold is what I see in them; they had stars and stripes on them as well. I wanted them to remember this Skate America. It was a small token, yes, but all seemed to be receptive.
In our discussions with the trio, we talked of the Strauss piece they were to do in exhibition ("2001"). I'd just watched a taped performance of this and was impressed beyond measure with it. I was not disappointed when I saw it in person during the Skate America exhibitions. I came out of my seat like a shot when it was done Sunday afternoon. I will never forget seeing this live. It is powerful and passionate--the very essence of K&D. I'm not a skating purist, don't claim to be; but I do think I understand athleticism and the sheer magic of their flexibility. The music was powerful and tremendous. I'm glad I went. I've been thoroughly infused with the skating spirit and can't wait for the next event.
---
Biography of Tamara Moskvina
Part III: Tamara's Success with Aleksei Mishin
(Back in our August issue, we left off with Tamara's biography when she ended her partnership with her first pairs partner, Alexander Gavrilov. Igor Moskvin, her coach and husband, suggested that she then team up with Aleksei Mishin.)
"It was easy to work with Mishin," Tamara remembered their partnership, "because he has a sense of humor and is intelligent. I have good memories about our times together because we always joked and made fun of everything, and we never quarreled." She adds that they are still friends today.
Tamara and Aleksei were a hit on the ice as well as off. They finished third at Soviet Nationals in 1967, behind the legendary Protopopovs and Tatiana Zhuk and Alexander Gorelik. That finish allowed Tamara to advance to her first ever World Championships. They were held in Vienna and, as was standard at the time, the rink was outdoors. "Our free skating competition was with rain," Tamara recalls. "I remember the Protopopovs waiting their turn to compete huddling under an umbrella someone gave them." After that, the ISU decided to conduct competitions indoors.
Moskvina and Mishin were considered to be a blend of both artistry and athleticism, which is not surprising considering the pairs Tamara would later go on to coach. "We were athletic because we did more elements than the Protopopovs," Tamara says. "We had another style. Modern. We skated on French music...Everybody told this is completely different style from the classic style of the Protopopovs."
Tamara and Aleksei went on the following season to compete at the 1968 European Championships. Zhuk and Gorelik were unable to be there because of illness, but the Soviet Federation had decided that Zhuk and Gorelik would represent the USSR at the Olympics in Grenoble. So only the top two Soviet pairs at Europeans would advance to the Olympic team. The Protopopovs were virtually guaranteed a spot, as they were the defending Olympic champions. Therefore, in order to make the team, Tamara and Aleksei would have to beat the new dynamic team of Irina Rodnina and Aleksei Ulanov.
After the technical program, Tamara and Aleksei found themselves only in fifth place. It looked like they would have to forget about their dream to compete in the Olympics, as neither partner planned on staying around for another four years. They went out for the free skate and performed as well as they could. Tamara went to the dressing room to change, and she heard someone there say that the Soviet pairs finished 1st, 2nd, and 5th. She logically concluded that she and Aleksei were 5th, and she began taking off her skates. Someone ran to the dressing room telling her that she and Aleksei were the silver medalists! She was shocked and put her skates back on as fast as she could. Aleksei had already changed clothes and didn't have time to change back for the medal ceremony. He walked back onto the ice without wearing skates.
---
Return to the
Kazakova & Dmitriev Home Page
---