Kazakova and Dmitriev---Career Biography
1995-96 Season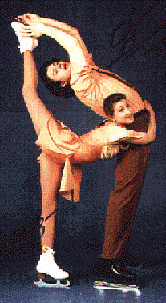 Oksana Kazakova and Artur Dmitriev began skating together in February 1995. Artur is an Olympic Champion (1992)with his former partner Natalia Mishkutenok. They won two European and World titles, and the silver medal at the Olympics in 1994. But in autumn 1994, Artur and Natalia perceived different paths for their careers to take. Artur had wanted to continue with Olympic-eligible skating; Natalia had wanted to turn professional. They could not resolve this difference in goals, so they agreed to go their separate ways. Artur then began the search for a new partner. He skated with Marina Eltsova for a few days but it didn't work out. He traveled to Moscow in a fruitless search for a new partner. Dejected, he returned to St. Petersburg.
Oksana had trained in the same rink in St. Petersburg, the Yubileny Palace of Sport. She skated for several years with Dmitri Sukhanov, with mediocre results. The partnership was on its last legs. Oksana later said that her former partner lacked competitive drive and ambition. It was Oksana's coach Natalia Pavlova who suggested she try out with the esteemed Artur Dmitriev. At first, Oksana thought the coach was joking.
Oksana and Artur had one audition together and it went well. On their second audition, Artur called in his coach, the renowned Tamara Moskvina. Tamara was skeptical at first, but she knew that once Artur set his mind to something, it was tough to dissuade him. She agreed to take on the task of coaching the new partnership. The couple and their coach would have less than three years to go from zero to a possible Olympic gold medal.
Getting started was not easy. A few months after they began, Oksana suffered an ankle injury. An even more serious problem arose when their rink closed in the summer. The economic changes the former USSR was going through hit figure skating hard, and the Yubileny Palace of Sport was forced to close. Tamara arranged a deal to coach at Colorado Springs' World Ice Arena. She would work with some American skaters in addition to her own; they would be given ice in exchange. Oksana and Artur said goodbye to their families and friends, and packed up to work across the world for the summer. Along with the pair and coach came Tamara's other pair, Elena Berezhnaya and Oleg Schliakhov, who represented Latvia.
Colorado Springs provided a good atmosphere in which to work. Occasionally skating fans dropped by, knowing that Artur was a former Olympic Champions, eager to see him work with his new partner. The couple received a few standing ovations for their rehearsal sessions of their exhibition program to Strauss' "Also Sprach Zarathustra." They were interviewed by Blades on Ice magazine.
Tamara Moskvina works with choreographers Alexander Matveev and David Avdysh to create spellbinding programs for her skaters. Oksana and Artur's short program was to a delicate piece of music entitled "Nostalgia." Their elegant long program was to Verdi's "La Traviata."
After a summer of hard work, the couple was ready to debut in October's Skate America competition, held in the Cobo Arena in Detroit. Oksana and Artur were the first pair to take the ice in the short program, before a half empty arena. It was easy to tell that both members of the pair felt the butterflies in the stomach. But what the sparse audience saw was pretty amazing for a pair who had been skating together for only eight months: perfect unison in spins and footwork, an overhead lift that appeared almost effortless, a deep deathspiral, and every element performed with flexibility and soft grace. The one problem spot in the program occurred on the pair's side by side jumps. Oksana landed a perfect double axel, but Artur stepped out of his. It was a silly error, as Artur is usually rock solid on the jumps. As the pair made its way to the Kiss N Cry area, Tamara gave Artur a "You should know better" look. Solid performances by the other pairs left the new couple in forth place. Still, it was not bad for such an inexperienced pair.
The weekend that Skate America took place during was a busy one for the pair. They took the time to meet with their fan club. They also were interviewed for the ABC network, and Oksana was asked if she was honored to be skating with the Olympic Champion. Artur jumped in and replied that he was honored to be skating with Oksana.
The expectations and pressure were too much for the couple in the free skate. They fell four times in the long program and slipped back a spot to finish in fifth place. Yet it was not a total disaster. Fans noted some innovative moves (one in particular where Artur balances on one leg, and Oksana lays on her back, balanced on Artur's outstretched free leg), as well as Oksana's ebullience and balletic dance training. It was evident she came from the same great ballet tradition as all the great Russian pairs. Commentating for ABC, Dick Button noted that they could very well place among the all time great Russian pairs…we would just need to wait and see what they were capable of.
We did not have to wait long. Just weeks later, Oksana and Artur were in France, winning the silver medals at the Trophe de France competition. They defeated Meno and Sand and Petrova and Sikharulidze, both pairs who had been skating together far longer. More importantly, they performed a nearly-clean free skate, marred only by an error on the split triple twist. The thrilled looks on their faces when they finished the program told the story to anyone watching.
After Trophe de France, Oksana and Artur returned to St. Petersburg. Their rink had long since re-opened, and there they trained for what would be an extremely important competition: the Russian National Championships. Russia was allotted three spots on its Worlds team. Yet it had four pairs contending for these placements: former World champions Evgenia Shishkova and Vadim Naumov, former European Champions Marina Eltsova and Andrei Bushkov, Oksana and Artur, and the young pair of Maria Petrova and Anton Sikharulidze. Maria and Anton did not own any major, senior level titles but they had skated at two previous Worlds (finished 8th and 6th) and were well regarded. All of the other three pairs had been skating together for many years: Shishkova and Naumov over a decade, Eltsova and Bushkov over five years, and Petrova and Sikharulidze over three years. If Oksana and Artur turned in another performance as the one at Skate America, they faced a very real possibility of watching the Worlds at home on TV.
Fortunately, Nationals was a success for the couple. They placed second in the short program after landing triple toe loops. The free skate was not as smashing; they skated a bit slow and heavy, with Oksana fighting to land both the throws. Yet it was good enough for third place and a trip to the big events: Europeans and Worlds.
The Europeans were to be held in Sofia, Bulgaria. In that very same ice rink, Artur had won his first World title with his former partner Natalia in 1991. But this would be an entirely different ball game. Oksana and Artur would have to face not only the other Russian pairs, but the formidable German pair Mandy Woetzl and Ingo Steuer. Mandy and Ingo were the defending European Champions, and were not about to go down without a fight.
Oksana and Artur could not have skated a better short program. Every element was clean, high and flawless. Commentators were amazed at the unison in their spins. A second placement behind the Germans satisfied the pair as they entered the free skate.
The couple was to skate second in the final group. What preceded them was not brilliant. Both other Russian couples struggled with the release elements and left the door somewhat open. Oksana and Artur walked through it with a smashing performance that brought the audience to its feet at the end. Double axels and triple toes were landed flawlessly, as were both throws. The elements that had so troubled them at Skate America only months before were perfect here. The only glitch was the split triple twist; the move was omitted from the program. Yet it didn't matter. After the Germans turned in a mediocre performance that included a fall, Oksana had her first European title and Artur his third. Artur later was quoted saying that he didn't remember much of his previous European titles, as they were won so long ago.
Media hype then surrounded the pair as they prepared for Worlds. Some magazine articles named them the favorites. Polls on the Internet were conducted to determine who fans thought would win the World crown. Oksana and Artur placed a close second to Shishkova and Naumov.
They had to know it would not be easy. Shishkova and Naumov had won everything they entered that season so far (they did not compete at Europeans), and were eager to reclaim the World title they had won in 1994 and had lost (some say unjustly) in 1995. Eltsova and Bushkov and Woetzl and Steuer could not be counted out, despite their disappointing performances at Europeans. And the US had a strong contender in Jenni Meno and Todd Sand. Todd, however had a history of back problems.
As did Artur. Weeks after their European victory, Oksana and Artur were forced to withdraw from the Centennial on Ice competition due to Artur's back problems. This competition was staged to commemorate the 100th anniversary of the World Figure Skating Championships, and was held in St. Petersburg. After finishing 3rd in the short program (Oksana fell on the triple toe), they began their free skate, but Artur stopped after just seconds. His back was causing excruciating pain, and he did not want to aggravate it. They informed the referee that they could not continue, took their bows, and left the ice. Oksana later said how difficult it was to withdraw----she wanted to get out there and finish the program by herself! Tamara told reporters that Artur would rest and take medicine in an attempt to heal his sore back.
Worlds was held in March, in the city of Edmonton, Canada. This would be Artur's 4th Worlds, and his first in four years. Oksana had competed at only one Worlds with her former partner, and they did not crack the top ten. She was determined to do better here.
The pressure of expectations assailed the pair during the event. During their short program, Oksana fell on the triple toe loop, and Artur traveled during the side by side spin, nearly colliding with his partner. They felt lucky to be placed 4th, but their troubles continued in the long. The couple was to skate last of all the contenders, and the performances that preceded them were not spectacular. Although they started out very strong, Oksana later fell on a throw. The worst mishap occurred when Oksana fell during footwork. They lost time reclaiming their unison and were forced to omit a lift. Still, the strength of the elements they did complete in the beginning of the program and of their artistry kept them in the top five.
But a fifth place finish was not what either of them wanted. It was tough for Artur to accept, as he'd never finished off the podium at a Worlds before. They knew they were capable of a better skate than that. But the audience went wild for them during the gala, and the pair was invited on the Tom Collins' Tour of Champions that summer. Many skating fans understood that a top five finish at Worlds for a pair that had been skating together for a year was only an indication of greater things to come. Despite this, they did receive their share of criticism, as Oksana told interviewers.
During the summer, Oksana and Artur worked on both a new short and new long program. They performed on the Tour of Champions, almost always receiving a big hand from the audience. The past season had not been without its rough moments, but for a new pair it was overall a success and harbinger of more exciting things to come.
---
Return to the Kazakova & Dmitriev Home Page
---