Choose a Colour, Find a Star
The Most Comprehensive Listing of Links to Boy George and Culture Club Web Pages on the Net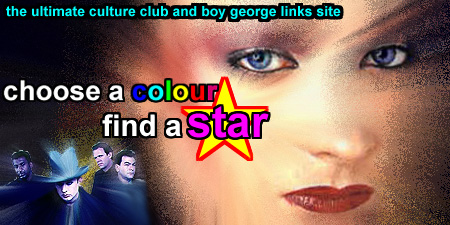 Hey, fans of Boy George and Culture Club! I am trying to compile and post the most complete list of links to all George and CC web sites. I found that there are so many, I was having trouble keeping track of all of them. So I've divided this page into six sections: Official sites, Boy George sites, Culture Club sites, sites for other members of Culture Club, Bulletin Boards/Newsgroups, and General Music Sites. Check it out, and drop me a line if you have any sites to add!
Page last updated January 5, 2002.
---
---
Official Sites
Global Culture. Official Culture Club E-Fanzine. Created by Alison Hay and Matt Jackson.
---
Boy George Sites
100% Boy. A web site for those who are completely devoted to Boy George -100%. Created in conjunction with the UK fanzine "100% Boy", the site includes news, reviews, features, fan opinions, cartoons!, and links to other sites.
Androgenius Boy George impersonator
Boy George Homepage in Toni's Page In German
Come Clean. Contains a diary of the author's time spent in England, living with other George fans.
Xackary Phobe's Digital Boy Web Site
---
Culture Club Sites
Rolling Stone Network: Culture Club
---
Other Members of Culture Club
Roy Hay's Biography
---
Bulletin Boards/Newsgroups
Alt.Music.Culture-Club. Go to Deja News and do a search for alt.music.culture-club
Culture Club Bulletin Board at iMusic
---
General Music Sites
World Charts
Got any sites to add? Email me and I'll put them up!
---
This page was created in 1998 by Marianne.
Since October 15, 1998 this page has been visited this many times: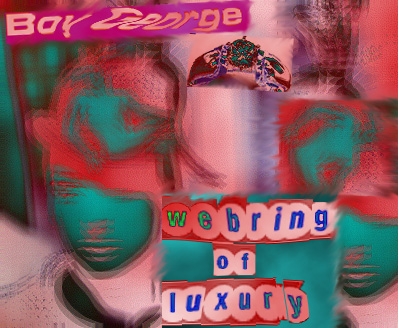 PREVIOUS i NEXT i RANDOM i SITE INDEX i HOME
The BOY GEORGE Web Ring of Luxury is owned and managed by George Alley
This site is owned by Marianne Merola